There is a huge rise in the number of bariatric patients that are admitted to the healthcare facilities. The trend presents a struggle for health and care providers and the facilities that are trying to provide for bariatric patients. Bariatric individuals must be handled with dignified care that is safe and effective for both the provider and the patient. Bariatric patients, due to their difficulty with mobility and their size, will need assistance with most activities of their daily life and routines. The more dependant that the bariatric patient is, the higher the risk is for injury of the nurses and doctors providing care. Bariatric patients are also more vulnerable to health complications when they are staying in a facility or hospital.
The increase in bariatric patients means there is an increase in the availability and development of bariatric equipment. When possible, the facilities need to have powered devices for this population. In bed, positioning with special mattress features like pneumatic tilts or differential inflation, help to turn the patient using air pressure. Ceiling lift slings are needed and are being brought into clinical practices. This is equipment that will help with the repositioning and transferring of a bariatric patient.
When planning for the care of a bariatric patient, whether it be long or short term, the caregivers need to have access to the right weight rates and sized medical equipment.
Such equipment will include:
Bariatric bed that has an expandable deck, built-in weigh scale and a power-assisted drive for moving. The expandable deck will allow for the deck part of the bed to go inwards so the bed can move through doorways. You can then increase the width once inside the room.
Full body slings, limb slings and pannus slings
A total lift system installed into the ceiling
Wheelchairs with a varied depth and weight
Walkers
Stretches that have a 1,000-pound weight capacity and also have a wider width.
Stepstool
Aerobic bench
Bariatric bedpans
Bariatric washbasins
Shower chair
Sit and stand devices
Trapeze bar system that goes over the bed
A powered tugger to move the loaded beds and stretch chair
Visitor chairs that allow bariatric visitors to sit comfortably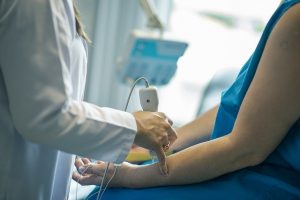 There are so many more bariatric equipment solutions. Having this equipment readily available will help with a smoother admission and will provide patients with more dignified care.
Having a bariatric cart is essential in hospitals and care facilities and should include the following:
Larger hospital gowns, slippers, pants and housecoats
Longer needles and catheters
Blood pressure cuffs that fit comfortably around a bariatric patients arm
The field of safe patient handling when caring for bariatric patients is developing at a rapid pace. As new technology is making its way into the healthcare sector at a quick pace to ensure it is meeting the growing demands, bariatric care will improve. It is great to see more options now that are available for safer patient handling than there ever has been in the past. The increased rate of bariatric individuals means that the guidelines are becoming outdated quickly. With better, more suited equipment choices becoming more readily available, healthcare equipment increases the quality of life.
With technology advancing, we are seeing more and more specialised equipment being brought out to make the daily tasks of living more comfortable and more dignified for this group of people. With this equipment designed for bariatric weight and size requirements, more patients can stay at home or with family instead of going into a care facility so early on. Many types of equipment can be rented if you only require it for a short amount of time.